About MTV | Our Team
About Making Thinking Visible
The Making Thinking Visible Project was designed to allow students an opportunity to explore differences between East and West Coast geology through model building and collaborative discourse as a way to integrate, apply, and extend what they learned from Earth Science Class to understand more deeply why there are differences on the East and West coasts with respect to Geology. In doing so students develop: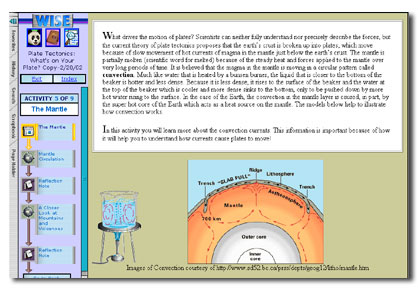 Content knowledge of the spatial causal, dynamic, and temporal features underlying plate tectonics.
Inquiry skills used in model building and collaborative discourse.
Epistemological understanding of the nature of science, of scientific models, and the role of models in theory formulation and revision.
Using a design study approach, we developed a curriculum of rich model-based and collaborative tasks for middle and high school students in the domain of plate tectonics. We implemented this in WISE (Web-based Inquiry Science Environment). In this curriculum, students were scaffolded as they:
created initial models of the tectonic processes in their geographic locations;
shared those models with students on the opposite coast (east vs .west);
received feedback on their models, while providing feedback; and
discussed the differences between models from the opposite coast in on-line discussion forums.
Please send questions or comments to mtv@concord.org