Curriculum Overview | "What's on Your Plate?" Outline | Dynamic Runnable Models
The Making Thinking Visible Curriculum: What's on Your Plate?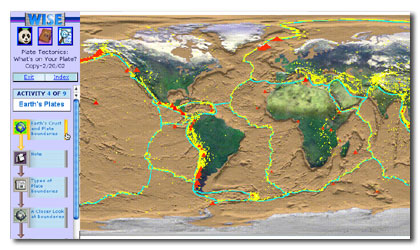 In the Making Thinking Visible project we designed a curriculum unit called "What's on Your Plate?" around two of the WISE (Web-based Inquiry Science Environment) pedagogical principles:
Making Thinking Visible
Help students Learn from One Another
This is an 8-10 day unit with many activities involving inquiry, modeling, model-critiquing, question-posing, collaborative discourse, dynamic models, and, real time geological data.
View a more detailed outline of the What's on Your Plate? Curriculum
The following is a link to the WISE Curriculum website. To log on you need to have an account on the WISE server. You have two options for doing this:
Obtain a New Student Account
This account allows saving, editing, etc.
Go to the WISE new student registration page http://wise.berkeley.edu/pages/newStudent.php
Fill in your first and last name
For PERIOD, enter 10
For password, enter a password of your choice,
For your student registration code, type SZP87G.
Click "OK"
The next page will show you the username you've been assigned.
Click on "go to the student portal"
Click on "Plate Tectonics: What's on Your Plate?"
Use the Guest Account
This account has view only access.
Click on Member entrance
For login enter "AnonyM1"
For password enter "try" as your password
Click on "Plate Tectonics: What's on Your Plate?"